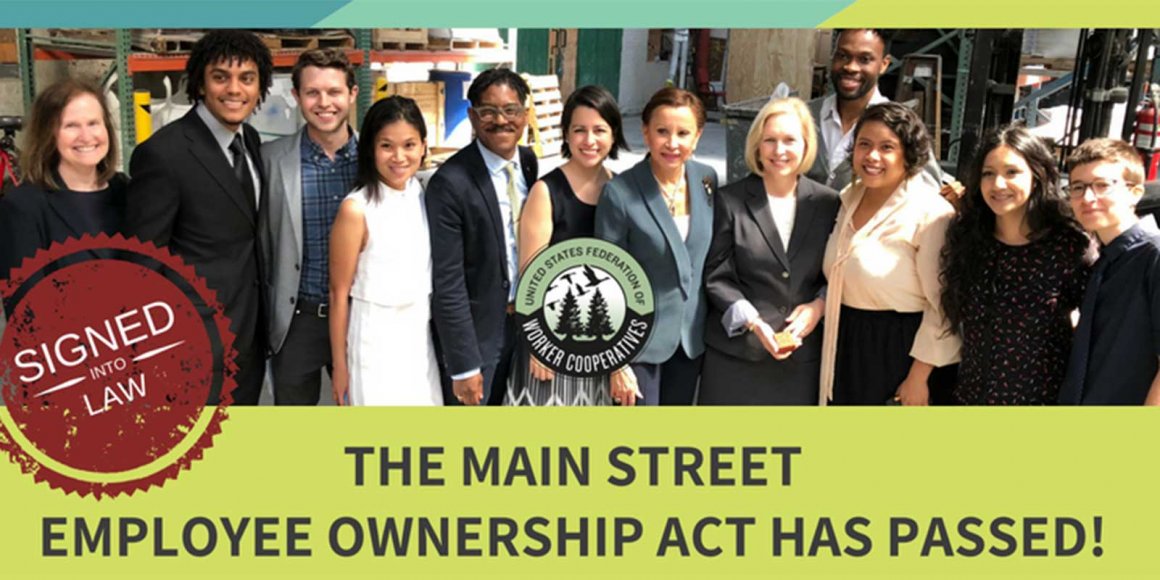 August 2018
ButcherJoseph & Co. and Mosaic Capital Partners proudly served as subject matter experts leading up to the enactment of the Main Street Employee Ownership Act ("the Act"), a bill that encourages lending to small businesses interested in converting to an Employee Stock Ownership Plan ("ESOP") or a cooperative ("co-op"). The Act was included in the FY2019 National Defense Authorization Act ("NDAA"), and was signed into law last week.
ESOP and co-ops alike reward employees by sharing in the success of the company, creating an effective incentive for management and employees to perform well. Often, small businesses are the largest employers of local residents and the sole supporters of small economies. Employee ownership hedges the risk of displacing jobs from communities that rely on them most and offers more Americans opportunities for equity participation and wealth creation.
Senator Kirsten Gillibrand (D-NY) who championed the bill issued a recent press release in which she stated, "Employee-owned businesses have a strong track record of better pay and retirement benefits for workers and a commitment to creating local jobs."
ButcherJoseph and Mosaic Co-Founder and Managing Partner Keith Butcher shared, "This is a major win for small businesses across the United States. While employee ownership may not fit every company, it is absolutely a succession planning tool that should be considered when assessing an owner's alternatives. This Act broadens the financing solutions available through the SBA so more companies can pursue employee ownership."
Specific features of the bill include:
Expanding the Small Business Administration's (SBA) ability to aid in the establishment of ESOPs through lending practices
Facilitating SBA loans to cooperatives
Supporting the SBA in training and educating small business owners on the benefits of employee ownership
About ButcherJoseph & Co.
ButcherJoseph & Co. ("ButcherJoseph") is an investment bank headquartered in St. Louis with coverage in Chicago, Washington, DC, and Charlotte, NC. ButcherJoseph provides investment banking advisory services to middle market companies. With more than $7 billion in successfully completed Employee Stock Ownership Plan ("ESOP") transactions, ButcherJoseph & Co. is known as a leader in the ESOP field.
About Mosaic Capital Partners, LLC
Mosaic Capital Partners, LLC ("Mosaic") is a private investment firm providing mezzanine debt and equity to privately held middle market companies looking to drive value and growth. Based in Charlotte, NC, Mosaic employs traditional private equity buyout strategies while also applying the partners' unique expertise in Employee Stock Ownership Plans (ESOPs). Mosaic aims to help business owners achieve liquidity, wealth transfer and ownership transition with its PE-ESOP product.