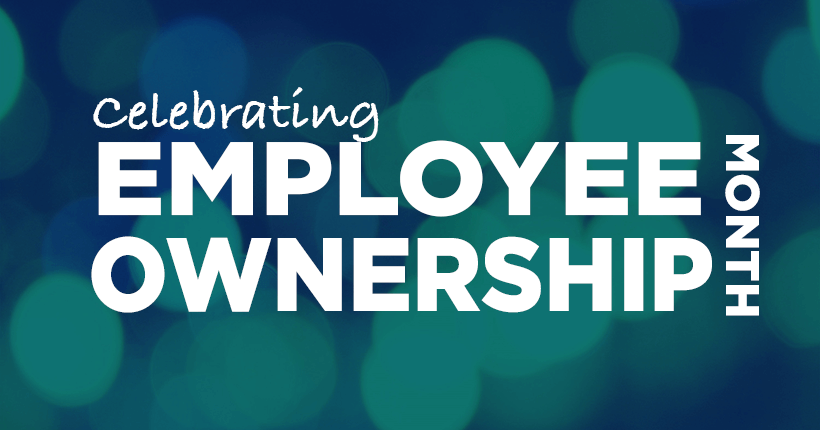 October 2020
Our team has long-standing relationships with employee-owned companies, and we've seen first-hand the undeniable benefits that employee ownership can provide to employees, companies, local communities, and the nation. Every October we honor a month-long celebration in recognition of Employee Ownership Month (EOM). To commemorate EOM this year, we've compiled a list of our favorite resources for the most up-to-date information about employee ownership.
Trade Associations
Employee-Owned S Corporations of America (ESCA): ESCA is a leading voice in Washington, DC that advocates for employee-owned S corporation ESOPs. Since 1998, ESCA's membership has grown to represent more than 215,000 employee owners across the nation.
The ESOP Association (TEA): Since 1978, this association has focused on advocating for all ESOPs at the federal and national level. Their membership represents the interests of corporations that sponsor employee stock ownership plans (ESOPs) and provides advocacy and educational services on behalf of its members. TEA's nationwide network of 18 chapters produces more than 150 educational and networking events every year.

The National Center for Employee Ownership (NCEO): As a nonprofit supporting the employee ownership community since 1981, NCEO is one of the top places to learn about employee ownership. Each spring, the Beyster Institute and the NCEO join forces to present the Employee Ownership Annual Conference, the leading annual employee ownership event for privately held companies. Whether you are considering employee ownership, managing a plan, or advising clients, the NCEO can help. The NCEO research page has additional information about the effects of employee ownership on firms and workers. 
Field Building Organizations
Beyster Institute at UC San Diego's Rady School of Management: The Beyster Institute works to advance the understanding and practice of employee ownership as an effective and responsible business model. They focus on education, research, and consulting to promote employee ownership and the creation of effective ownership cultures.

Certified EO: This certification is for employee-owned companies offering its members much more beyond its core program. Certified EO helps employee-owned companies optimize the impact of employee ownership to increase sales and recruit top talent while spreading awareness.

Democracy at Work Institute (DAWI): Created by the U.S. Federation of Cooperatives, this group ensures that worker cooperative development in economically and socially marginalized communities is adequately supported, effective, and strategically directed. The DAWI resource center produces original research on the cooperative sector, and provides technical assistance, educational programming, and consulting for cooperative businesses. An initiative of DAWI, Becoming Employee Owned, is focused on expanding the worker cooperative model to reach communities most directly affected by social and economic inequality.
Fifty by Fifty: An initiative of The Democracy Collaborative, Fifty by Fifty is aimed at creating a more inclusive economy through employee ownership. Their goal is to catalyze a movement with the knowledge, resources, and skills to grow the number of employee owners in the U.S. from 10 million to 50 million Americans by 2050. Read their recent reports on their publications and research page.
State Employee Ownership Centers
Research & Analysis
The Aspen Institute Economic Opportunities Program: The Economic Opportunities Program (EOP) advances strategies, policies, and ideas to help low- and moderate-income people thrive in a changing economy. EOP focuses on expanding individuals' opportunities to connect to quality work, start businesses, and build economic stability that provides the freedom to pursue opportunity.
Multi-Media Opportunities
The ESOP Podcast: This one-of-a-kind podcast invites listeners from all over the world to hear insights from the best in the ESOP business. Each episode focuses on a variety of fields in the ESOP world – including employee owners, management, and ESOP professionals.

We the Owners [documentary]: Originally released in 2013, this film asks, what does it mean to be an owner? In We the Owners: Employees Expanding the American Dream, employee owners from New Belgium Brewing, Namaste Solar and DPR Construction answer this important question.
Did we miss one? Let us know about employee ownership resources you have found helpful.