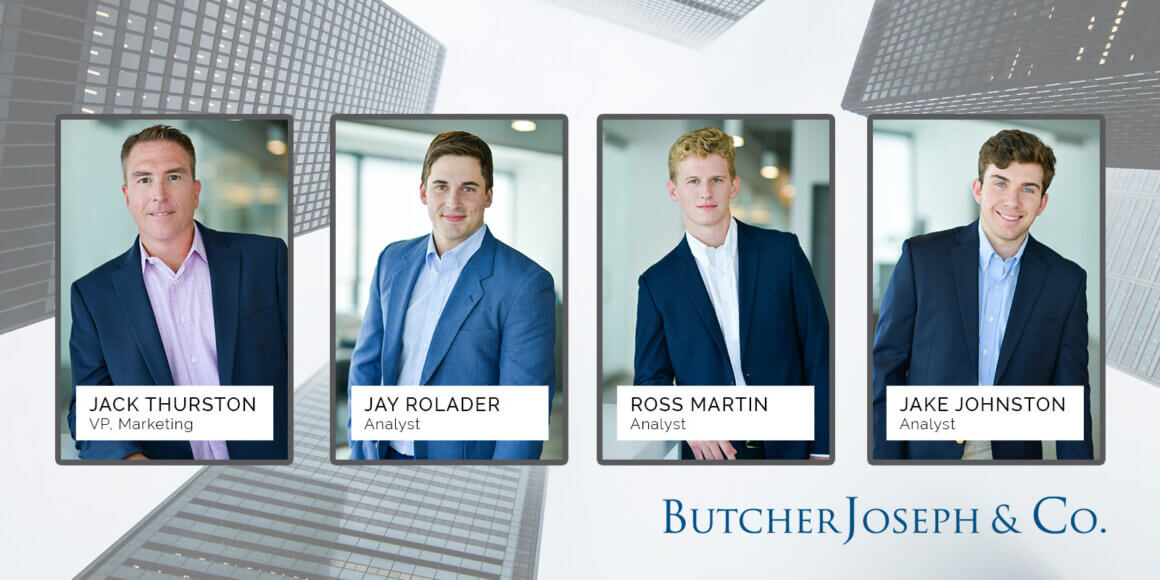 August 2021
ButcherJoseph & Co. ("ButcherJoseph" or "the Firm") is pleased to announce several additions to the Firm. Jack Thurston joins as VP, Marketing, and brings over 20 years of marketing expertise across the financial services vertical, including deep experience in investment banking, wealth management and employee stock ownership plans (ESOPs).
The firm also added three new Analysts in Jay Rolader, Ross Martin and Jake Johnston. Jay comes to the Firm from Accel-KKR and Kingswood Capital Management and has a BA in Politics from Princeton University where he was a starter for the Princeton Tigers football team.
Ross returned to the Firm as a full-time Analyst after completing the ButcherJoseph & Co. Internship Program and is a graduate of the University of Chicago where he majored in Economics and was a starter for the university's football team.
Jake also returns to the Firm as a full-time Analyst after completing a summer internship at ButcherJoseph. He is graduate of The College of William in Mary, holds a BBA in Finance, and was also a member of the university's football team.
"We are delighted to add these four professionals to the ButcherJoseph family," said Joseph Strycharz, Managing Partner at the Firm. "Adding exceptional talent like Jack, Jay, Ross and Jake not only reflects upon our commitment to client excellence but the value we place on the academic experience and work ethic that student athletes bring to the Firm."
About ButcherJoseph & Co.
ButcherJoseph & Co. is a boutique investment banking firm specializing in ESOPs, mergers and acquisitions, private capital sourcing and valuation advisory services for middle market companies. Our industry recognized team of professionals has executed 200+ transactions exceeding $15 billion in total value. ButcherJoseph is headquartered in St. Louis with a presence in Washington, DC and offices in Chicago, Charlotte, Scottsdale, and Nashville.