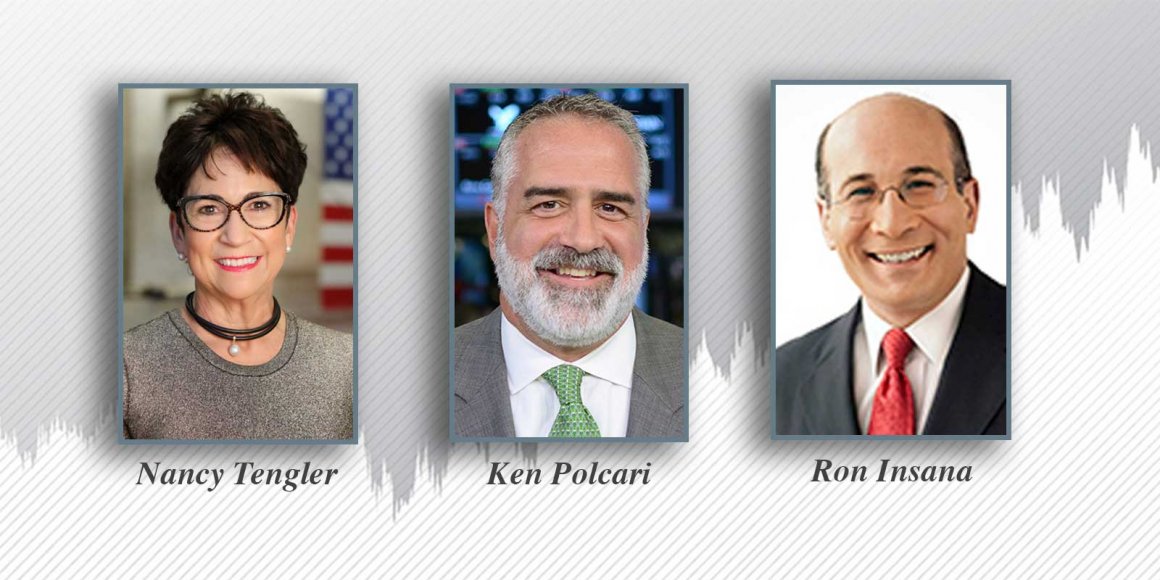 January 2019
ButcherJoseph Asset Management*, an affiliate of ButcherJoseph & Co., welcomes three distinguished financial professionals to the firm: Nancy Tengler, Ken Polcari** and Ron Insana.
Tengler, the former Chief Investment Officer for Heartland Financial USA, Inc. (Nasdaq: HTLF), joins ButcherJoseph Asset Management as the firm's Chief Investment Strategist. Throughout her 20-plus years in investment management, Tengler has held several senior leadership positions and brings an outstanding track record in investment strategies. In addition to her many appearances on CNBC and Fox Business News, Tengler has also authored three books, numerous articles, and many columns on her investment process.
Ken Polcari, with nearly 40 years' experience on the NYSE trading floor, joins as a Managing Principal. Polcari most recently was Managing Director at O'Neil Securities and has been a CNBC Market Analyst and Contributing Editor for the past six years.
Ron Insana, a 27-year CNBC commentator and former anchor at CNBC, also joins as a Senior Advisor. Both Polcari and Insana will provide market analysis and assist in the development of investment strategies for individual and institutional clients.
"We are excited that Nancy, Ken and Ron have joined our team," said Jon Curley, CEO of ButcherJoseph Asset Management. "Each of them possesses tremendous knowledge and success in advising clients, and they've certainly gained a following among high net worth investors. We look forward to supporting these all-star professionals to serve as significant resources for investors."
ButcherJoseph & Co. Managing Partner and Co-Founder Keith Butcher stated, "We launched ButcherJoseph Asset Management in 2017 with a vision to bring more comprehensive solutions and advice to our long-standing client relationships. The experience and insight that Nancy, Ken and Ron bring to our family of firms is invaluable. We are thrilled to bring their combined expertise under one umbrella and offer our clients another resource."
About ButcherJoseph Asset Management
ButcherJoseph Asset Management provides financial services and solutions tailored to high net worth clients. Advisory services are offered through ButcherJoseph Asset Management, LLC, an investment adviser registered with the state of North Carolina. ButcherJoseph Asset Management is an affiliate of ButcherJoseph & Co.
About ButcherJoseph & Co.
ButcherJoseph & Co. ("ButcherJoseph") is an investment bank headquartered in St. Louis with a presence in Chicago, Washington, DC, and Charlotte, NC. ButcherJoseph provides investment banking advisory services to middle market companies. With more than $7 billion in successfully completed Employee Stock Ownership Plan ("ESOP") transactions, ButcherJoseph & Co. is known as a leader in the ESOP field.
###
*As of April 1, 2020, ButcherJoseph Asset Management rebranded to Laffer Tengler Investments.
**As of September 30, 2019, Ken Polcari is no longer affiliated with ButcherJoseph Asset Management.