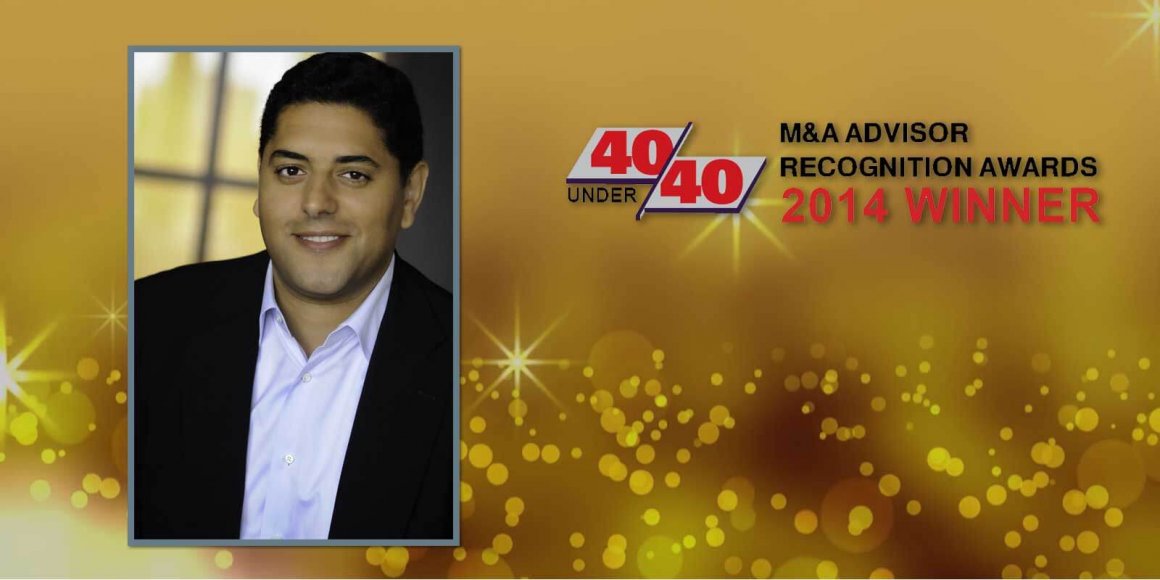 May 2014
Butcher Joseph Hayes is proud to announce that Alberto del Pilar, Managing Director, has been selected as a winner of The M&A Advisor's 40 Under 40 Dealmaker Recognition Awards. Albert was chosen for his accomplishments and expertise from a pool of international nominees by an independent judging panel of distinguished business leaders.
The M&A Advisor, renowned globally for its recognition of leading M&A, financing and turnaround professionals, created this event to promote mentorship and professional development amongst the emerging business leaders.
With more than 12 years of global corporate finance and capital markets experience gained at industry-leading investment banks, Albert has worked extensively with both publicly listed and privately held companies in the structuring and execution of transactions involving the sale of equity to employees, private equity investors, and strategic acquirers.
"Albert has been an extremely pivotal leader in our firm's growth and success thus far," said Keith Butcher, a founding partner of Butcher Joseph Hayes. "His ability to lead others and his uncompromised demand for excellence in service to our clients has contributed to the significant success we've seen since the inception of our firm."
Albert will be honored at a black tie Awards Gala on June 24th, 2014 in New York City, hosted by The M&A Advisor in conjunction with the 2014 Emerging Leaders' Summit.
ABOUT THE M&A ADVISOR
Since 1998, The M&A Advisor has been presenting, recognizing the achievement of and facilitating connections between the world's leading mergers and acquisitions, financing and turnaround professionals with a comprehensive range of services including M&A SUMMITS; M&A AWARDS; M&A CONNECTS™; M&A ALERTS™, M&A LINKS™, M&A DEALS, MandA.TV and M&A MARKET INTEL™.
ABOUT BUTCHER JOSEPH HAYES, LLC
Butcher Joseph Hayes ("BJH") is an investment bank headquartered in St Louis with coverage in Chicago, Washington, DC, and Charlotte, NC. BJH provides investment banking advisory services to middle market companies. With almost $2 billion in successfully completed Employee Stock Ownership Plan ("ESOP") structured transactions, BJH is known as a leader in the ESOP field.